Over the last few weeks of the stay safe orders to combat Covid-19, we've missed being out with our neighbors in person, but have been super grateful for the sense of community we've still been able to feel here in SunCrest. Whether it's friendly waves, online check-ins, the countless random acts of love for our medical workers, elderly, and other residents, we're feeling how special SunCrest really is.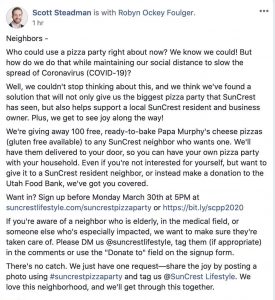 All these good vibes made us want to throw a big pizza party to celebrate the good, but how could we do that while maintaining our social distance to slow the spread of Coronavirus? We reached out to a business owner who's a SunCrest resident (and veteran) and found a solution that provides the biggest pizza party our community has seen—the #suncrestpizzaparty!
Thanks to everyone who signed up for a pizza, and to those who instead donated theirs to the Utah Food Bank.
Huge shoutout to SunCrest residents and business owners Kevin and Christa Hutchinson for the perfect execution of preparing and wrapping nearly 100 pizzas!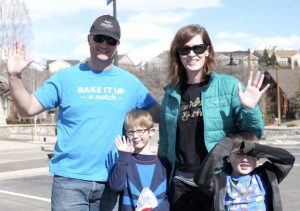 Next time you're in the mood for a pizza, visit them Murray at 659 W 5300 S or 900 E 5692 S.
SunCrest, thank you for continuing to rally for yourselves, your neighbors, and your community. Day by day, slice by slice, we'll get through this.