$699,000 | 4,784 sq. ft. | 4 beds | 3 baths
---
Welcome to 15419 S. Eagle Crest Drive.
We're swooning over the flawless transition of consistent hand scraped hardwoods on the main floor. Not only are they sleek and stylish, but they're smart and sensible for everyday life.
The natural nexus of the family room, kitchen, and semi-formal dining is flanked by oversized windows all around. Whenever you pair sky vaults, windows, and view with rock fireplaces, granite counters, freshly painted cabinets, and stainless appliances you know it's going to be good.
We love the placement of the master bedroom, a comfortable distance from the 2 bedrooms, yet tucked at the back of the lot to capture the views you moved up here for. Finesse, for sure.
Downstairs is open, bright, and huge. The whole family (maybe twice extended) are no match for the brilliant, sweeping design. From family room to pool table, ping pong, or hoop it up; take your pick – or take them all – this basement can handle it.The spare finished area would be perfect for a theater room, in our opinion. But hey, you do you.
The downstairs is rounded out by a bedroom, full bathroom and wet bar ready to serve up anything from popcorn to piña coladas.
The upgrades weren't limited to the indoors – there's a new spiral staircase that makes the crisp mountain air available from both levels. It's just outside the daylight walkout basement off the covered Trex deck.
The backyard is landscaped and fenced for all two-legged and four-legged wanderers.
Sure, the sellers are sad to go. But they're leaving it in tip top shape just for you!
Join us Saturday January 6th from Noon to 2PM for a SunCrest Open House Event.
P.S. Bring your favorite neighbor or call your bestie. These properties are next door to each other. Who doesn't love the idea of a modern day Tim Taylor and Wilson?
---
$650,000 | 5 bed | 3.5 bath | .27 acre
---
The main floor was designed to host parties, dinner dates, or days of your own pajama-clad noshing. The large chefs kitchen is complete with double ovens, granite countertops, stainless appliances, and an island that can handle any feast with ease. Who doesn't love a little more space to stretch out? The sellers love the master retreat and it's hard to disagree. It's a lavish space with coffered ceilings and a master bathroom dressed to the 9's. Downstairs is sensible, spacious, and consistent to the home's design elements. Outside, the landscaping has extra flair for killer curb appeal that blends perfectly with the serene SunCrest backdrop.
---
$550,000 | 4 bed | 2.5 bath | .28 acre
---
Tucked in a quiet cul-de-sac, neighborhood traffic is nearly nonexistent. Street hockey, roller blades, or a classic game of H-O-R-S-E, this lot was picked with intention. Inside, the kitchen layout sprawls into the vaulted family room, ample dining area, and our favorite, the humongous outdoor entertaining space. The master bedroom and bathroom were crafted as a place for relaxation, and are spacious enough to handle any bedroom set you have the budget or heft to haul in. Two other bedrooms, a full bathroom, office, and laundry room balance out the home's true main level living. With one finished bedroom and much of the tedious basement construction completed, the downstairs is a blank canvas for your vision – wet bar, theater room, workout area, or family room; you pick.
$429,000 | 3,528 sq. ft. | 6 beds | 3 baths
---
Ramblers in SunCrest don't show up too often. If we told you this one even has a view of Mt. Timpanogos, Utah County, and Utah Lake and on top of all that is located in a cul-de-sac, you'd probably think you had just seen a unicorn.
Well, saddle up and hold on tight because this is no myth.
Countless hours were recently put in to balance cozy and comfortable, with move-in ready. The main floor sports durable manufactured hardwoods that are up to the challenge of kids and pets.
The kitchen (new stainless appliances!) opens up to the family room and leads you right to our favorite spot: the triple pane sliding glass door and accompanying Trex deck. Hello, views!
The master was designed with intent to serve up daily sunrises in bed. It's okay, we won't tell if you hit snooze a few times to catch it.
The basement vibe was ditched in favor of a "lower level". We're talking nine-foot ceilings, a full kitchen, laundry room, and large family room that has a universal design for you to make it whatever want it to be. Man cave, kid cave, bat cave – take your pick!
This home is equal parts convenience, comfortable, flexibility, and fine finish; a mythical creature indeed!
$419,000 | 3,784 sq. ft. | 4 beds | 3.5 baths
Welcome to 15208 S. Eagle Chase Drive, where "open concept" is the order of the day.
We hear from home buyers all the time that they want something that's open and ready with space to entertain. Fist pump. Nailed it.
The main floor is screaming for a Saturday football party (Go Utes! Go Cougs!) or a chef who knows their way 'round a well-provisioned kitchen.
A TRIPLE panel sliding glass door leads to the massive deck with a built in hot tub and is surrounded by mature landscaping. Lemonade or sangria, anyone?
Upstairs is functional and balanced with its three bedrooms, two bathrooms, a universal loft or office, and a laundry room that can easily handle a week or two worth of clothes. Spoiler alert: The master and loft have views!
Downstairs is fully finished and finds another bedroom, bathroom and a family room that that is ready to go now, but equipped to handle a wet bar or kitchenette if that's in your future (high five for thinking ahead, amirite?)
Clean, functional, and beautiful: don't let this one slip by.
---
Follow along:  Newsletter | Facebook | Instagram
$435,000 | 3,023 sq. ft. | 6 beds | 3.75 baths
Yes, this is one of those "mountain views out the back door" SunCrest homes. You know the ones we're talkin' 'bout: sunrises, sunsets, and 24/7 scenery.
Plain and simple, it doesn't get better than this for those that covet the SunCrest lifestyle. The backyard faces east which means your evenings on the deck (which can easily support a hot tub) aren't spent baking in the summer sun, but soaking up those fiery views that never get old.
It's not all about the outside here, the inside packs quite the punch. Oversized windows decorate the back of the home so that view is never lost within the walls.
The kitchen was recently freshened up with new cabinets and counters, and is likely the biggest on the block. A no-brainer for those who love to entertain.
The master retreat and adjacent bedroom/office deliver the most elevated views of the house. Go ahead, enjoy the moment.
Let's be honest, with five beds, four baths, a three-car garage, and two laundry rooms, this fully finished home is one you won't want to miss.
$410,000 | 3,122 sq. ft. | 6 beds | 3.5 baths
It's not too often that view homes like these come up for sale, so it might be wise to heed our advice: act quickly.
Perched high up on Winged Bluff Lane in SunCrest, this main floor living home is about easy living and soaking up the very views that make SunCrest famous.
If you consider yourself the host(ess) with most(ess), you're in for a real treat here. Whether it's Sunday brunch, a casual cocktail party, or getting together with the gang from the good ol' days, the kitchen and family room open up to the large Trex deck and will pair good company with unbeatable mountain and valley views.
The main floor master is positioned in the back of this place so that everyday sunrises bring new meaning to the old saying "just another day in paradise."
Two other beds and a universal den or office complete the main floor layout. The downstairs, should you ever dare leave the main floor views, has to be one of the biggest family rooms on the street and is certain to be great space for nights spent at home.
Two other bedrooms, a full bathroom, and a space currently being used a salon (but yours to customize) round out this SunCrest home. If you don't move fast, the next view will be the "Sold" sign out front.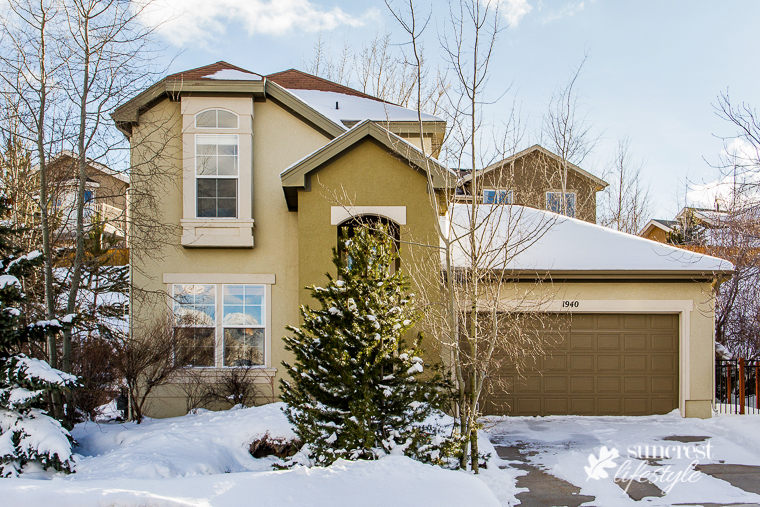 $334,900 | 2,135 sq. ft. | 4 beds | 3.5 baths
For those keeping a watchful eye on the SunCrest real estate market, it's common knowledge that a home in the low $300s is pretty rare. So we don't think it's too far of a stretch to say we may have just rounded up your next space.


For starters, the four bed, 3.5 bath layout is equal parts practical, sensible, and functional.
You'll find real hardwood floors, three tone paint (we love the modern grays), upgraded fixtures, and a modernized kitchen that features stainless appliances, sleek white cabinets, and a designer subway tile backsplash.
The front of the home overlooks Lone Peak and if you're up to it, it makes a great hike, or the perfect conversation piece as you entertain guests in the home's great room.
Downstairs is our pick for nights at home or catching your favorite team (or some zzz's) as it boasts a cozy family room, another bedroom, and a full bath.
Outside, spring will be calling your name as you step foot on the oversized Trex deck and accompanying pergola. The fully landscaped yard means more room for family games or playing fetch with Fido or watching the wildlife wake up from winter.
$575,000 | 4,632 sq. ft. | 5 beds | 4.5 baths
We don't really love cheesy descriptions. Stuff like "hidden gem" and "massive curb appeal" tend to make us cringe. So, we're not going to use the phrase "picture perfect" here, even though we really want to. Let's just say that if you were looking for a magazine cover shot, we can't really think of a better home than this one.
With Lone Peak as a backdrop, and the mature landscaping that abuts a gorgeous walkway leading to the grand entry, she's a cover girl, for sure.
Look up or look down when you step foot in this two-story; either way you're in for a treat. Cherry hardwoods extend across the home's main and second levels. Windows decorate the walls and let the light flow throughout.
The main floor (and entire home, for that matter) is set for easy living with the kitchen placed squarely at the heart of the home while the dining, living, and family rooms branch out from there.
The ever-so-convenient deck is nestled among the gambel oak, a hallmark of the SunCrest community.
Upstairs, the master bedroom is covered in views of the Lone Peak wilderness range. The spa-like master bathroom is perfect for soaking in relaxation amid life's busy events.
Two other bedrooms, a jack and jill bathroom, and a loft that is begging for a telecommuter or kids' area round off the second story.
Downstairs finds 10-foot ceilings, a large family room, two bedrooms, a full bathroom and walkout basement. The park-like backyard and waterfall are just what you'd hope for to compliment the home's exquisite design.
We won't say it's "picture perfect," but you definitely will.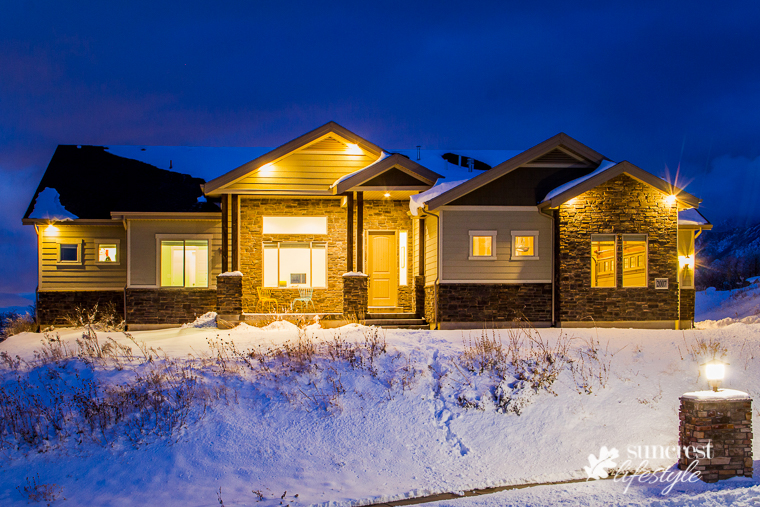 $600,000 | 5,504 sq. ft. | 3 beds | 2.5 baths
When we first saw this house, we couldn't get the word "elevation" out of our minds. After all, it sits atop one of SunCrest's most elevated streets. The elevation – its position above both the Salt Lake and Utah valleys – is what affords some experiences you don't get just anywhere. Breakfasts here are served with sunrises over Mt. Timp and gorgeous views of Utah Lake. Dinner is paired with sunsets over the Great Salt Lake and twinkling city lights.
Elevation has another meaning, though. In architectural terms, it's a flat view of one side of the home. We think every elevation strikes a stunning silhouette against the skyline. Architecturally speaking, however, there's even more to love on the inside. The 5500 square feet is laid out to take maximum advantage of an elevated lifestyle.
Windows line the walls to capitalize on the home's unbeatable mountain setting.
The gigantic chef's kitchen is complete with double ovens, in-counter gas cooktop, and beautiful thick slabs of granite. Best of all, the kitchen is the heart of the home and is flanked by the dining room and a pair of family rooms have taken "open concept" to new heights. We're confident it will handle any size party you're brave enough throw at it.
Three bedrooms, 2.5 bathrooms are tucked quietly away if you need a break from the home's common areas. The master bedroom is not only a spacious retreat, but it's flooded with natural light and features sky high ceilings, double closets, dual vanities, a spa-like tub and shower, and a walkout (yep, we said walkout!) that leads to the open mountain air above the inversion and worry of life below.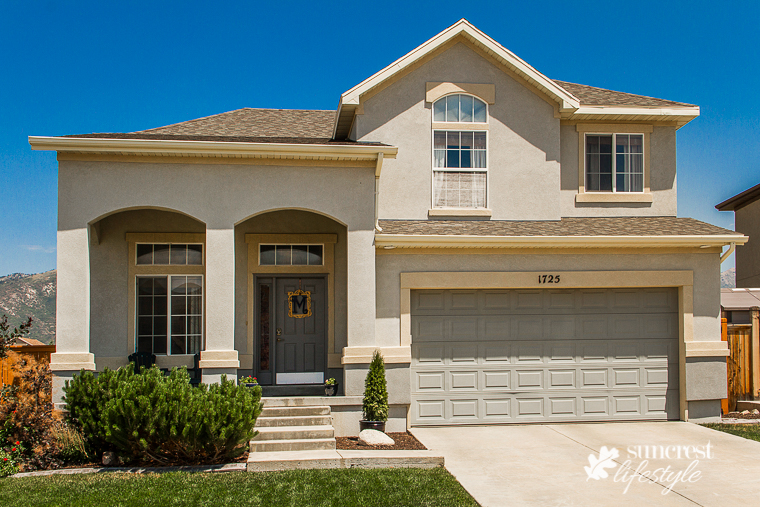 $325,000 | 2,660 sq. ft. | 3 beds | 2.5 baths
Do you ever get the urge to just roam a little? Spread out? Stretch? This well-maintained SunCrest two-story may actually be the cure to claustrophobia (don't quote us on that).
You want headroom? The entry and front room are vaulted, light and open.
Unlike so many other homes, you don't get tucked away in a cave when you go to your room. No, the master bedroom has a spacious en-suite bathroom and a walk-in closet with so much room you'd swear it was a junior bedroom.
No need to cram into the bathroom amenities; the jetted tub and shower are separate and feature a gorgeous mosaic backsplash.
Two other bedrooms and a loft/office/exercise room/playroom/you-decide is upstairs for you to spread out and enjoy.
The family room is conveniently located just off the kitchen dining for a more casual look, speaking of convenience, the main floor laundry and powder room are easily accessible to keep you from needless steps.
Need to stretch and grow even more? The unfinished basement is roughed in for a bedroom and family/rec room and rough plumbed for a fourth bathroom. Not that you'll want (or need) to go outside, but this is SunCrest, so when you're ready for blue skies, pop out to the oversized patio for views of Lone Peak. Let the kids, dogs, or party guests roam free in the secure, flat yard.
The charming covered front porch will feature phenomenal sunsets and ensure not only ample headroom, but a home to put you in the perfect headspace.
Ready to explore a little more? Contact us here.