Tonight, Draper City Council will review a proposed amendment to the master development agreement for Hidden Canyon Estates, Mercer Mountain Estates and Lakeview Heights Properties. Although these concept plans (located adjacent to existing Hidden Canyon Estates development) are not the official, final plats for the development, they do provide SunCrest area residents with the first solid peek at what developers are planning in this part of our neighborhood.
Want to stay in the loop on these and other SunCrest area developments and news? Easy peasy. Sign up here.
Previous posts and history about these areas here.
Hidden Canyon Estates-Phase 1
Today, Edge Homes released pricing for the first phase of the Hidden Canyon Estates subdivision in the SunCrest area. Prices start around $400,000 and Edge Homes has indicated the first 5 will be selling discounted and will increase after that. The original development agreement called for a minimum of .17 lot size. This phase is the first of a multi-year, multi-phase development.
You can view future Hidden Canyon Estates phases here and sign up for future SunCrest development news here.
If you're interested in building, we believe putting a Realtor on your side when building a home is the smartest move you can make to ensure you dream home doesn't become a nightmare. As SunCrest resident realtors, we're hyper focused on the area and can help you decide if building is right for you, advise you on building the right house for your needs, act as a buffer between you and the builder, and help you avoid costly mistakes in the building and purchasing phases. Best of all, you pay nothing more for having a realtor on your side when building!
Contact us today for a no obligation consultation on what we can together to help achieve your homeownership goals.
*Note: While this development is in the SunCrest area, it's not currently a part of the SunCrest HOA.
*Price sheet courtesy of Edge Homes and subject to change without notice.
Hidden Canyon Estates
Recently, Draper City held a public hearing to discuss the preliminary plat for the Hidden Canyon Estates subdivision. We were there and below is a summary of the comments we made.
City council will vote on this matter at their next meeting. PLEASE voice any questions, comments or concerns you have directly to the City Council by emailing them here.
TRSSD:
The development agreement will require homeowners pay into the TRSSD. No other financial compensation is proposed for road repair or maintenance from construction.
Street Size:
Snow accumulation and where it can be pushed has been a recurring issue in SunCrest. The applicant is requesting the street size to be reduced from 56′ to 50′. This street size is comparable to other streets in SunCrest. Last year, Draper City approved 46′ wide streets with one sidewalk for the pending Edelweiss development.
Open Space:
The development agreement requires a minimum lot size of .17 acre and as presented complies with current zoning. The plans offer no open space within the subdivision. There is a retention pond that is slated to have a walking path but no green space, playground, or tot lot.
Trails: 
The plans as presented provide a conceptual drawing of the proposed trails. There are no trailheads, just connections into the existing trail system. The development agreement does state the applicant will be donating $500,000 to the parks and trails that is "to be used in the area" by the time the applicant begins their second phase.
Street Entry/Exit: 
A single entry lane, a deceleration lane, and a left hand turn lane will be made at the subdivision ingress. A left, right, and acceleration lane will be made at the egress to the subdivision.
Sidewalks:
No answer was given regarding a sidewalk running along the East side of SunCrest drive.
Wetlands: 
No definitive answer was given if any of the proposed area is in wetlands. The proposal does require that a "determination be made by a competent professional" prior to approval.
Loose ends:
Hidden Canyon Estates is not currently included the master SunCrest HOA.
The applicant stated the development is likely a 3-7 year project.
Unless another egress is made, they are limited to 50 homes from a single access point.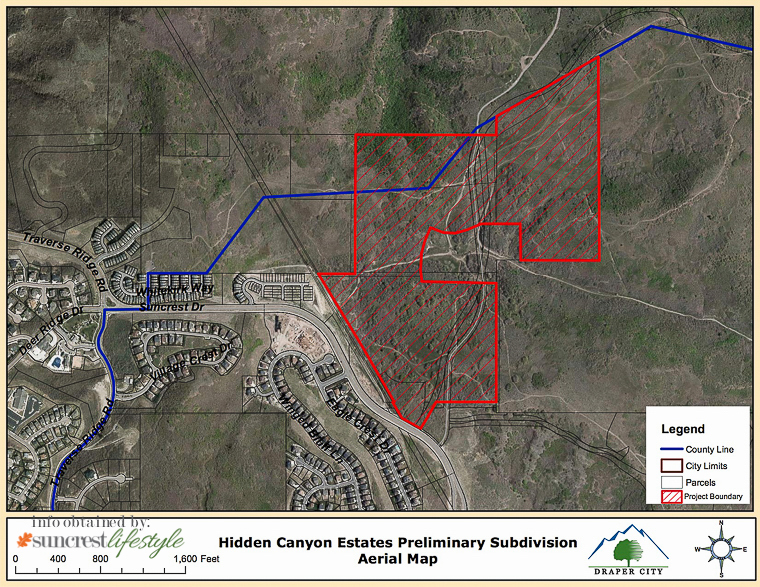 Hidden Canyon Estates – Coming Soon!
Get ready for some new neighbors in our mountaintop community — Hidden Canyon Estates is coming soon (Don't miss a beat— sign up for development updates here). This development sits on approximately 103 acres located east of SunCrest Drive.
What To Expect
Currently, the development is approved for a maximum of 300 single-family homes, each with a minimum 7,500sq/ft (.17-acre) lot. Since there is only one access point off of SunCrest Drive right now, they will be limited to 50 homes until a second access point is built.
This parcel and 2 other parcels were part of a settlement agreement between the existing property owner and Edge homes in 2014. The preliminary plat passed the Draper City Planning Commission is headed to City Council for approval. Upon approval from the Council, the subdivision will include nine phases—the first eight by Edge Homes, and the final phase by the original property owner. View the full plats below.
And What About…?
SunCrest HOA: As of this writing, it's unclear if they will join the SunCrest HOA.
Open Space: The plat includes two parcels of open space. A .31 acre parcel in Phase 1, and a second .18 parcel next to the city's existing detention basin.
Parks and Trails: $500,000 will be given to Draper City and be used in the first or second phase trail and trailhead improvements
Traverse Ridge Special Service District: Any subdivision on the property will be a part the Traverse Ridge Special Service District.
 Our take: 
You may be wondering, "How will new construction impact my home's value?" New development in any community presents more choices for buyers and sellers. Depending on the size, style, and lot size, new homes can bring new competition to finished homes when it comes time to sell, but they will also bring a lot more people up the hill who are interested in buying in SunCrest. Buyers and sellers all have different goals, timing, and lifestyles that make each experience unique. Finished basements, full mature landscaping, established neighborhoods, and different scenery are all strong features of homes already built, so we expect to see existing home sales remain strong, even with new development looming. Working with a team to help position yourself to stand out in a bigger (and newer) crowd, however, will become even more important for any SunCrest homeowner looking to sell.
Hidden Canyon Estates
Public hearing for the Hidden Canyon Estates development to be held before the Draper City Planning Commission on March 24th at 6:30. Steve Maddox is the applicant.
Click here to view the full application that will be presented to the city on March 24th.
This particular parcel, along with 20 acres surplussed in 2014 was included to help facilitate a settlement between David Mast and Draper City. Read about it here.
Read more about future SunCrest developments here or the latest with the Draper City Open Space here.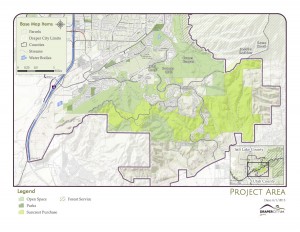 Want to have a say in how SunCrest is (or isn't) developed?
Receive updates through our newsletter, Facebook, or Instagram.

Submit your comments

to the C

ity website

here.
SunCrest Open Space Master Plan
Draper City is currently updating the Open Space Master Plan. At the City's first open house regarding the matter in September, we saw a glimpse of the possibilities that are being considered. Here are our main takeaways from the event.
Deer Ridge Development
Additional development at Deer Ridge, located in the Southwest corner of SunCrest, may be on hold. It's unclear if that is a temporary status or a permanent decision. Depending on if you were speaking to consultants assisting with the master plan, or actual City staff, the information wasn't consistent. The City indicated, as they had done in previous meetings, that much of the infrastructure is in place in Deer Ridge, and the City may look for ways to recoup the costs of the SunCrest purchase and didn't rule out future development. Consultants however, cited public opinion and surveys that open space and recreation might be the best use of this land. Ideas range from conservation easements, revenue generating uses, and further development of the trail system.
Draper Trails, Trailheads, And Trail System Expansion
The current Draper and Corner Canyon trail systems may be beefed up, in a big way. It's important to note that nothing specific is underway yet, but the following were discussed:
Edelweiss Trailhead – The current proposed trailhead is now located directly east of Stoneleigh Heights (versus within the future Edleweiss development). Proposed 12-16 parking spots and restrooms.
Hidden Canyon Trailhead – This proposed trailhead would be located directly off of SunCrest Drive and off of the road currently in development for the Hidden Canyon Estates subdivision. This trailhead would be similar to the Orson Smith Trail Head and be completed with restrooms, a small playground, and a pavilion.
Brookside Trailhead – Currently, Brookside Drive is the road that leads to nowhere in Maple Hollow. There is discussion about a new trailhead, with amenities, atop this road and rerouting the Maple Hollow Trail to connect with the Eagle Crest trail.
Our Take:
Many ideas are being tossed around. They range from dog parks, disc golf, campgrounds, sledding hills, chair lifts, and outdoor recreation centers, among others. It's great to see so many ideas being considered and it will be interesting to see what sticks. In regards to future development, it's clear the City is being careful of where conservation easements may or may not be placed and what portions may make sense for future development. With 40 acres of (former) City owned land now heading towards development, we're excited to have a vision for the future.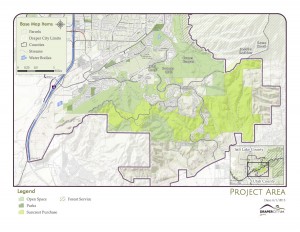 The City is updating the Corner Canyon Regional Park Master Plan to include all City open space along the Traverse Mountains. The "Project Map" above shows land Draper City already owned (light green) and land purchased at ~$2,125 an acre from Zions bank (lime green). The other image is future development.
When the City purchased land from Zions Bank in 2012, then Mayor and City Council reiterated their intent was to preserve as much of the land as open space, but mentioned they would look for ways to recoup the costs of the purchase.
Since the Zions purchase, Draper City has surplussed (surplus is a formality the City follows for land they usually intend to sell) 160 acres of the ~2,400 acres.
Of the current surplussed property, residents have seen some areas progress towards development. [See: Mercer Mountain Estates] This particular parcel, along with 20 acres surplussed in 2014 was included to help facilitate a settlement between David Mast and Draper City.
Regarding the 40 acres of City owned land, City Planner David Dobbins explained  "Draper City purchased nearly 2,400 acres of property from Zions Bank at a cost of $5,100,000, or $2,125 per acre. Therefore, the cost to Draper City to acquire the 40 acres being considered as a settlement with DJI was $85,000. The 40 acres to be developed represents 1.66% of the property purchased by Draper City from Zions Bank." The Council voted in March 4-1 to move forward with the settlement with SunCrest resident Bill Colbert being the lone vote.
This particular parcel of prime land offers magnificent views of Salt Lake County, Mt. Timpanogos, and Utah County. When asked about what other areas were considered, the City said it considered "many other areas but couldn't come to an agreement." Most of the City Council is also quick to point out that the original master plan included more development.
As former City owned land is being developed, many residents are eager to see the City work towards a master open space plan and hopefully "put to bed" the uncertainty of (more) future developments.
Residents are encouraged to get involved by attending planning and council meetings or by following online at planwebsite.com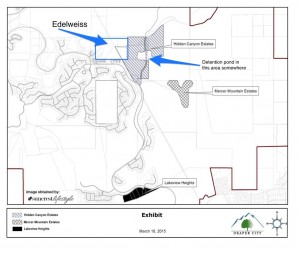 There's more development in motion in SunCrest! Recently, Draper City Council approved a master development agreement regarding the properties known as Hidden Canyon Estates, Mercer Mountain Estates and Lakeview Heights.
Hidden Canyon Estates
Located adjacent to the Stoneleigh Heights Townhomes and the future Edelweiss development, the agreement allows up to 300 single-family homes with a minimum lot requirement of 7,500 sq. ft. The developer will contribute $500,0000 towards the construction of trails/trailhead in either the first or second phase.
Mercer Mountain Estates
This 20-acre parcel, acquired in the Zion's Bank acquisition, will be limited to 50 single-family homes with a minimum lot requirement of 12,000 sq. ft. The agreement will allow for a gated community if desired and all roads within MME will be private streets.
Lakeview Heights
This 20-acre parcel, commonly referred to as the "concrete jungle," was also acquired in the Zion's Bank acquisition. This parcel will allow townhomes or condos and be limited to 160 units and all roads within LH will be private streets.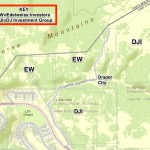 Future SunCrest Development
Let's take a look at what we can expect going forward regarding future development in SunCrest. With DR Horton completing their development in Stoneleigh Heights and continuing their build out in Tall Woods and Mercer Hollow, let's look ahead to 2015!

Edelweiss 
Located north and east of the existing Stoneleigh Heights townhomes, this appears to be the next addition to SunCrest. Edelweiss was recently granted a zoning change to allow their proposed development of 181 townhomes, cottages and single-family estate on 61 acres. Access to this parcel is through Stoneleigh Heights Drive, Haddington Drive and an emergency access off Deer Park Lane.

Hidden Canyon Estates (DJM Investments LLC)
Located east of the Edelweiss development and Stoneleigh Heights III, it's believed that this development is seeking about 300-350 homes on approximately 135 acres. This development will likely connect to Edelweiss, as well as a new road from SunCrest Drive.

Michel Land LLC 
Known as the "shoe box" property, this 83-acre development has recently been discussed to include residential homes and possibly a storage facility and/or a charter school. Recent tractors and machinery in the area suggest geotechnical studies and soil analysis may have begun.

Draper City Surplus Parcels
The 20-acre parcel located near Maple Hollow has been an eyesore for many and commonly referred to as the "concrete jungle." This parcel, when developed, is likely to include higher density units. Draper City declared this and an additional 100-acre parcel near Highland as surplus earlier this year. Declaring property as surplus is the city's formal declaration of their intent to sell. Requests for proposals were sent out by the city but at this time, it's still owned by the city
Deer Ridge III
Originally planned for 30-40 custom homes, it's unlikely this area will remain undeveloped; much of the infrastructure is already in place. This area does, however, present a challenge to future developers due to only having a single access point in the event of an emergency.

Our Take: With the real estate market stabilizing, fewer distressed properties, attractive interest rates, and high demand for new construction, we expect 2015 to a busy year for new construction in SunCrest. If you love SunCrest and are thinking about building your dream home, now is a great time to prepare to get the pick of the litter in new lots.